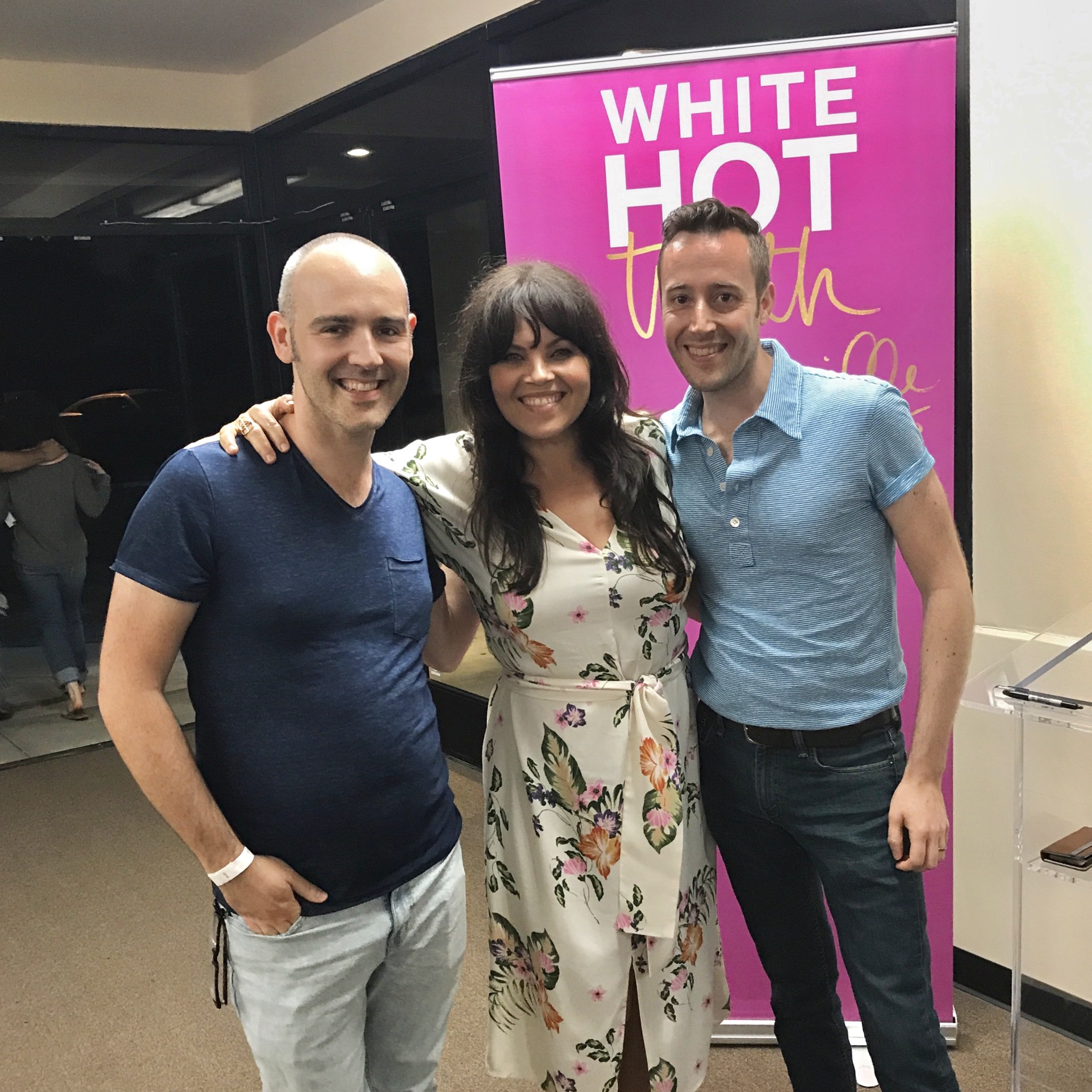 My heart is full after seeing the exquisite Danielle LaPorte speak last night here in Los Angeles. Her poetic insight was a warm bath for the soul, and it was such a treat for Glen and I both to meet her in person finally.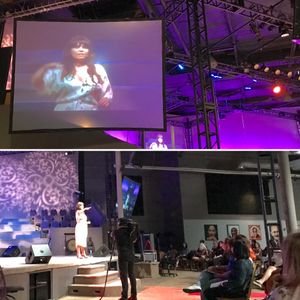 I've been spreading the gospel of Reverend LaPorte for years now. Though it's not easy to label her and all the good she contributes to the world – author, spiritual teacher, crusader of truth, creative alchemist are a few terms that come to mind. In her own words, "I'm in the make-your-life-better industry." In short, she's my kind of wellness guru :) 
AGAPE Spiritual Center was the last stop on her White Hot Truth book tour – her third book to date, following the awe-inspiring Firestarter Sessions and The Desire Map.  
As people were piling in, they were greeted to hand bracelets that read "You're so hot," and handed two copies of the new book White Hot Truth – one for them and one to give away. I thought this was a brilliant and generous promotional tactic which certainly made the $50 per person admission worthwhile. Once we got to our seats, we noticed their were cards on top of each chair, waiting to be turned over. They were different "truth bomb" cards from Danielle's signature #TruthBomb decks – little nuggets of wisdom that are like fortune cookie readings, only more profound. 
I noticed Danielle standing causally in the back before things got under way, having a conversation with someone. I didn't want to be "that guy" to disrupt upon her pre-show mojo, but I figured she wouldn't be out in the open if she wasn't open to connecting beforehand. So I approached her with confidence. She looked at me as if she knew who I was, trying to put a name to the face. I said, "Hi, I'm Gregory Douglass. We've emailed a few times over the years." Before I could finish my sentence, her face lite up and she said, "Gregory! Of course, it's so nice to finally meet you!" She smiled widely and wrapped her arms around me as though we were longtime friends, and I was amazed. I had emailed her some links to my music and a bit of writing encouragement a few times over the years, but I certainly didn't expect her to remember me. "Is your man here?" she asked. She knew I had a man? "Yes! And he's adorable," I replied, to which she laughed in her signature Danielle LaPorte cackle that is so infectious. "I'll introduce you both after," I said. Then she looked at me intimately in the eyes with a moment's pause and said, "I'm so glad you came." 
She took to the stage with eloquent poise, addressed a full house of mostly women, and began the night with some elegant mantras. The poetic nature of her words is the defining aspect of Danielle in comparison to other "light workers" in her industry. Her wisdom just washes over you, and her authenticity seals the deal for every word spoken.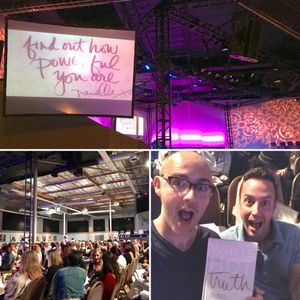 The majority of the evening was fueled by questions and stories from the audience and Danielle's take on various topics. There was a lot of anger being (rightfully) addressed over the gender inequality and patriarchy that is currently poisoning our country, which inspired me to get up and speak. My recent trip to Sedona had this fresh on my mind, so I wanted to share a bit about my own experiences growing up as a gay man, being raised by mostly women, not having any healthy male role models, and even channeling my creativity from a dominantly "female" perspective. I wanted these women to know that I truly felt their pain, and what a mind-fuck it was to be a white male in physical form, struggling with these injustices myself – that I was also in need of healing from my battle with the masculine realm. I hoped my perspective might lift the conversation to a more internal, spiritual sense of gender-identity – acknowledging the yin and yang of our shared experiences. 
One woman came up to me after and thanked me for all that I shared. I could feel her genuine gratitude, and it was enough to feel like my audience contribution made a difference. 
My husband Glen and I waited in line to get our books signed and had some lovely conversations while we waited. We finally reached the front of the line about 20 minutes later and I introduced "my man" to Danielle. There were more hugs, and she thanked me for speaking up during the talk. We snapped some glamour shots together and had one more goodbye-for-now hug.  
It was an unforgettable evening and the highlight of 2017 for me thus far. It was also another lesson in humility and the power of connection. You never know the impression you can truly have on a person, and you never know when magic will happen. 
Cheers, 
Gregory