Photos by Natalie Williams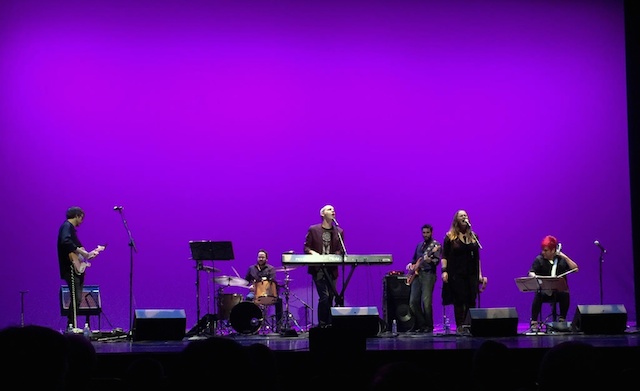 New Year's Eve brought a whole new sense of purpose into my creative world this year. I hit the Flynn Center Main Stage in Burlington, Vermont on December 31, 2015 for a headlining performance at First Night Burlington with the Gregory Douglass Band, and it was a dream come true actually.
I was born and raised in rural Vermont and I grew up attending so many concerts at The Flynn in the big city of Burlington. The Flynn has always been a pillar of the arts in Vermont, so it's always held a special place in my heart.
I remember seeing Tori Amos there on her Under The Pink tour when I was in middle school. It was just her and her piano, and she helped me understand what I wanted to do with my life. She essentially taught me how to play the piano and how to craft songs that took the listener on an emotional journey.
I've seen so many of my heros come through The Flynn, including Shawn Colvin, Patty Griffin, Alison Krauss, Kronos Quartet, Neko Case, October Project, and on and on. The Flynn was a huge  part of my formative years and has always been a benchmark for my performance aspirations. It was a true honor to finally perform on the same stage that so many of my inspirations stood on before me, and the same stage that inspired me to pursue music in the first place.
Throughout most of my touring years, I have performed solo acoustic or as a duo/trio configuration because it was far more financially feasible than touring with a band. In hindsight, that was a rough road to travel because I survived as something of a "black sheep" in the singer/songwriter community. I was performing mostly at listening rooms but many listening rooms are coveted by the folk community, and I simply didn't "belong" in the folk community. Bookers and concert promoters never really knew what to do with me, and I was often paired with artists I wasn't the right fit for.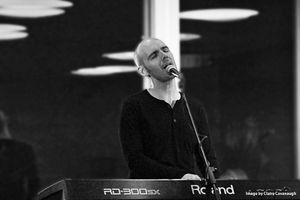 I was swimming upstream.
The rare opportunities I've had to perform with a full band over the years might have caught my attention more carefully, but I continued fighting against the current for sustainability's sake. There wasn't much enticing me to make a band a priority from a logistical standpoint, and I wasn't willing to acknowledge how much that might be hindering my live performances overall.
The New Year's Eve Flynn show was followed by an unforgettable show at The Chapel in San Francisco on January 10, 2016 – the official east coast and west coast pre-release shows for My Hero, The Enemy. The new album is so massive in production that I wanted to present both of these shows with a full band as a "live album" performance, and in the same order as the album. I wanted the shows to be extra-special and highly memorable for folks to experience, so with the help of team support, I went all-out for them both. 
There were no corners cut in the planning process, and it made all of the difference. It allowed me to take a "quality over quantity" approach in comparison to my years spent as a "road hound" throughout my twenties – always trying to conquer the world with ambitious goals like "25 shows in 30 days," and harboring a semi-masochistic sense of pride by attaining such lofty ambition.
Presenting two quality pre-release shows was all I wanted to celebrate the new album in style. It was an incredibly refreshing way to manage all that was required to make each event the best it could be. I was able to put all of my energy, resources, promotional efforts, and heart towards two shows instead of stretching myself thin to poorly promote a string of 25 shows in a row and exhausting myself to pull them off. It made all of the difference from execution to completion.
I received so much praise from the audience in the aftermath of each performance. From their perspective, I think they got to experience a Gregory Douglass performance that was more fully realized than ever before – with a full band, exceptional sound, incredible lighting, and a remarkable venue to boot. I think it's safe to say that both shows were truly epic and just as memorable for the audience as they were for the band.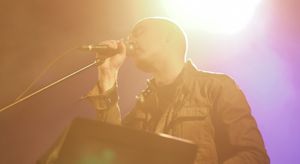 This "quality over quantity" approach has spilled over into my permanent psyche now. It's something I'd like to apply to all my performances moving forward. I certainly love performing solo as much as I do with a band, but there's no doubt in my mind now that every performance has to be the best it can be moving forward. This will call for a big shift in my touring plans from what they once were, and touring will likely happen less often, but I am going to make sure that any future show will offer an equally memorable experience for everyone involved.
I'm thrilled to have video documentation of The Chapel performance in San Francisco, and I'll be releasing new videos from that show through Patreon so you can be the first to see them. I'm so excited to be editing all this footage myself to dictate the rhythm of each live music video, and the footage is amazing! Shout-out to EBH Presents and the Lash Music Media team for capturing this incredible footage. It's going to take some time to finalize each song so I'll plan to release these monthly right here in the Gzine.
In honor of the second single this month, here's "Point of View" – the first live music video from the
Live From The Chapel 
project. I hope you enjoy it as much as we did that grand January evening!
Gregory Douglass Live From The Chapel is a "rockumentary" film & live album in the making. The new album My Hero, The Enemy was performed live in it's entirety at The Chapel in San Francisco, CA on January 10, 2016, and documented specifically for this project. By being a monthly patron here at Patreon, you are helping to support the ongoing funding of this project and many other projects to come. 
The Gregory Douglass band members included: 
Monique Citro on cello, Lisa Piccirillo​ on vocals, Seth Thomas Barbiero​ on bass, 
TJ Piccirillo on guitar, Ben Cassorla on guitar, Matt Bogdanow on drums, 
Jane Boxall on marimba & Glory Douglass Reinstein​ on clarinet. 
The show was presented by EBH Presents & sponsored by Magnify. 
Eric Hanson was the Executive Producer. 
The show was filmed by Lash Music Media and edited by Gregory Douglass. 
The audio was recorded by Nic Pope at Different Fur Studios and mixed by Mike Tuccillo. 
Special thanks to everyone involved with making this project possible; 
the band members, everyone behind the scenes, everyone who attended the show, 
and all my current patrons here at Patreon.